Learn about Azra, ASPA Den Haag's owner and founder
Welcome to ASPA Den Haag! My name is Azra Secerbegovic, and I'm the founder of ASPA, a place to find healthy, natural products and treatments that your skin and soul crave! My personal mission is to help you realise that you can look beautiful without using quick fixes and harsh chemicals on your skin.
I started ASPA as a natural expression of my educational background and interests. After learning about the power of different plants early on, I decided to study plants and botany at The Royal Botanic Gardens, Kew (United Kingdom). After that, I spent many years in the sales and marketing of fresh organic produce.
While in the organic produce business, I dreamed about setting up a salon and spa that can bring together honest, natural beauty products, the latest tech-driven treatments. So the work journey took me from the botanist to the organic fresh produce marketing executive and the now the beauty therapist.
At ASPA, we specialise in helping you get a radiant skin and a fitter, healthier, and more relaxed body. That's because we firmly believe in the 'fit body, fit mind' saying; only when we eat right, exercise regularly, use natural products, and get personalised spa treatments can we be truly healthy.
If you like to get in touch, please contact me at info@aspadirect.com or 070 345 0215. I hope to see you in ASPA The Hague soon!
Click the pic for our FREE ASPA The Hague Beauty & Wellbeing Tips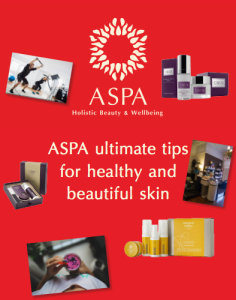 Everybody deserves good skin! It helps us in our daily life and business ventures, and gives us that extra confidence boost. These free tips will help you to tweak or completely change your current daily routine in the skin care.
You can also book ASPA The Hague's Skin Analysis for tailor-made, in-depth advice. An ASPA beauty therapist takes a long, detailed look to see where there's room for improving your skin. After that, she cleanses your skin thoroughly and gives you fully customised advice. Book an appointment today to get rid of problems such as acne, fine lines, deep wrinkles, large pores, puffy eyes, dry skin, dehydration, broken capillaries and hyper-pigmentation.