Brazilian wax & smooth skin with Lycon at ASPA Den Haag
Brazilian wax doesn't have to be scary or painful. At ASPA Den Haag you will be taken care of by waxing specialists! We use Australian-made Lycon wax, which easily removes stubborn hair as short as 1 mm like no other, with superior results for both women and men.
Lycon is formulated with the finest resins, bees wax and sensuous aromatherapy to pamper even the most sensitive skin during, for instance, your Brazilian wax.
ASPA truly spoils you with Lycon waxes with gorgeous aromas such as coco, chocolate, berries or lavender. For the best and smoothest results we also use Lycon harmonising lotions before and after your treatment.
At ASPA in Den Haag waxing is not just a treatment, it is a soothing and calm beauty journey!
Our treatments are carried out according to the highest hygiene standards. Your comfort and wellbeing are crucial to us. Thus, treatments may be shortened or extended for your maximum comfort.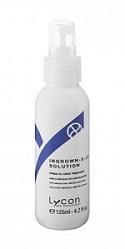 INGROWN-X-IT SOLUTION
with Salicyclic Acid
This spray mildly exfoliates, decongests and helps minimise ingrown hairs. Arnica and Allantoin soothe angry looking red spots and promote skin healing. Great for after waxing, shaving, depilatory creams, electrolysis and for regular breakouts and congested skin. Does not sting or burn.
Available in: 125ML – 4.2 FL oz (US)