Pedicure for healthy feet at ASPA Den Haag
Pedicure at ASPA is a complete overhaul of the feet, addressing the foot in its entirety, which is unique in Den Haag. The treatment is performed on a dry foot to ensure exceptionally long lasting results. We follow the protocols designed by "The Queen of Feet" Margaret Dabbs according to the British Vogue.
Margaret Dabbs London is a globally recognized brand specialising in credible, results driven feet and hand products and manicure and pedicure treatments for both men and women which will provide effective, long lasting anti-ageing for both hands and feet. The philosophy is simple – your hands and feet are very important to your look and well-being and we give to them the respect you and they deserve. Book a treatment or buy some products – you will be in for a treat!
The Margaret Dabbs London range is sold at some of the world's most iconic retailers and her specialist treatments are performed at leading hotels and spas globally. The secret is to fuse together the best of medical with the best of beauty to produce a unique range of effective, results-driven yet luxurious products and treatments. We can do this so well because of our unrivalled expertise, experience and professional standards in this area.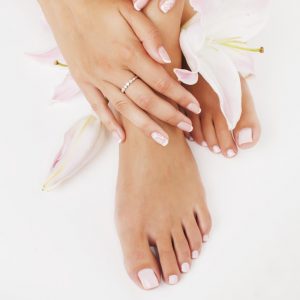 The feet are transformed with the safe removal of all dead and dry skin and callus. The nails are shaped, buffed and re-hydrated, and the feet are left revitalised, and glowing. This fusion of health and beauty uses the amazing Margaret Dabbs range of foot care products, expertly formulated with Emu oil known for its anti-ageing and moisturising properties.
Please note treatments may be shortened or extended. Listed timings are average.
| | | | |
| --- | --- | --- | --- |
| Mini pedicure (file & paint) | 20 min | €20 | Book now |
| Basic pedicure (nail shaping, cuticle care, dry skin removal & polish) | 30 min | €42 | Book now |
| Deluxe pedicure (nail, cuticles, skin removal, massage, exfoliation & polish) | 60 min | €55 | Book now |
| Pedi add-on: Margaret Dabbs polish | | €5 | Book now |
| CND Shellac pedi (nail shaping, cuticle care & Shellac) | 60 min | €55 | Book now |
| CND Shellac application only (no pedicure) | 40 min | €29 | Book now |
| CND Shellac soak off treatment | 20 min | €10 | Book now |
| Fruit Acid Peel pedicure (recommended for thick calluses) | 75 min | €70 | Book now |