This post is also available in: Nederlands (Dutch)
ASPA in Den Haag is not just a salon, spa and wellbeing studio. We also sell a range of beauty products in our salon. In fact, we also take pride in distributing the same carefully selected pure skin care and beauty products. We use these in our spa for our facial, massage, hair styling, manicure and pedicure treatments. You can enjoy ASPA's favourite cosmetics and beauty products during your salon visit. You can also buy them at ASPA or on our online shop.
Favourite ASPA skin care and beauty products
Margaret Dabbs
The first true beauty regime for feet and hands, created by leading foot expert Margaret Dabbs. These luxurious foot and hand care products for manicure and pedicure have been expertly formulated. They are designed to give you healthy, gorgeous feet and hands. Also, the organic emu oil for its anti-ageing, moisturising and healing properties, and wonderful scented lemon myrtle, will give you amazing long lasting results.
EmerginC
EmerginC's journey began in 1996 with one of the most stable and effective vitamin C serums to emerge on the market. Nowadays it works with top chemists in state-of-the-art labs, incorporates clinically proven cosmeceutical and medical-grade ingredients, and active botanicals and marine extracts. Furthermore, EmerginC is always on the lookout for new technologies to ensure that, no matter your environment, your skin radiates and the best of you keeps emerging.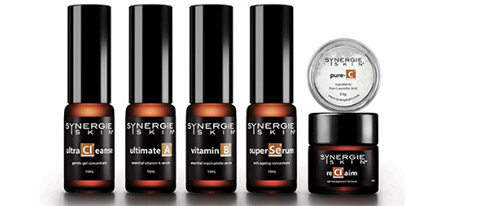 Synergie Skin
Synergie Skin® is an innovative Australian cosmeceutical company committed to creating clinical grade skincare.
Synergie combines cutting edge scientific breakthroughs with naturally derived ingredients to protect, change and nurture all skin. Harnessing a "clean science®" philosophy means that all Synergie products are free from any questionable or harmful ingredients.
All Synergie products are free of:
Parabens and other potentially harmful preservatives
Artificial colours
Artificial fragrance
Petroleum by-products or mineral oil
SLS (or other Sodium sulphates)
PEG
Propylene Glycol
Alpha-H
Alpha-H has spent twenty years researching the essential elements the skin needs for optimal health, and is thus a 'cosmeceutical' brand. Conclusively, Alpha-H means that it products have a predictable and scientifically proven pharmaceutical effect for cosmetic use. Moreover, Alpha-H doesn't believe its customers should have to pay for filler ingredients; its products contain more active ingredients than most brands on the market.
Oilixia Skincare
Inspired by founder Alexandra Jansons' inherent wanderlust – (she has travelled through over 50 countries) – Oilixia is a tribute to the wonderful local ingredients discovered on her travels.
Treasured by indigenous cultures for their potency and beauty-enhancing benefits, yet unique and uncommon to a global audience, Alexandra learned the value of these powerful oils and extracts and was inspired to do something with that knowledge.
The result is Oilixia, a British-based small batch producer of globally-sourced natural ingredients with specific beauty benefits.
Oilixia's nut and seed oils are cold-pressed to preserve their potency and they've chosen oils that are rich in antioxidants which means that they can formulate without artificial preservatives. It is vegan and cruelty- free brand.
Refinery
In case you thought ASPA was only for the ladies, we are happy to prove you wrong. In fact, men's treatments at our salon include the use of luxurious British brand REFINERY's products. Power-packed with essential oils, REFINERY is a pioneering skin care collection specifically formulated for men. Lastly, it combines cutting edge technology with all the force of the finest quality highly concentrated essential oils.
Aromatherapy Associates
Aromatherapy Associates are artisans in the field of aromatherapy. They have a simple pursuit – sharing the true power of essential oils and the incredible effects they have at a therapeutic level. In actuality, their core range of essences has become a much applauded and recognised phenomenon in the beauty world. Combining expertly blended essential oils with unique active botanicals has led to remarkable innovations in skincare. The result? Beautiful, glowing, healthy skin free from harsh chemicals. Book your facial or aromatherapy massage now!
LOVELI DEODORANT
The deostick is made in the Netherlands from (in order of quantity): Coconut oil, sodium bicarbonate (baking soda), shea butter, beeswax, arrowroot, vitamin E and natural perfume made from essential oils.
The packaging is made of polypropylene (plastic). It can be recycled with the rest of your plastic waste, but it is even more environmentally friendly to refill it with a refill.
This deodorant does not close your skin. So you still sweat (otherwise your body can't lose its waste), but you don't smell it.
You do on average 6 weeks with 1 small deodorant stick or more than 3 months with a large stick.
Jane Iredale
Jane Iredale sees makeup as an essential part of a woman's sense of well-being. That's why her mineral powders are a foundation, powder, concealer and sunscreen all in one, and why every product in the line is multi-functional. Furthermore, the goal is to make products that look good, feel good and are good for the skin. In addition, the products must be easy to apply, as well, so that a woman can be her best in the shortest amount of time.
Lycon
LYCON waxes enjoy a well deserved reputation as the Crème de la Crème of hair removal waxes around the world, trusted as the wax of choice in top spas and salons in over 57 countries. Formulated with the finest natural resins, bees wax and sensuous aromatherapy, it delivers superior results, removing stubborn hair as short as 1mm like no other. At the same time, LYCON also provides a nurturing and skin conditioning treatment even on the most sensitive skins.
CND® SHELLAC®
Founded in 1979, CND (Creative Nail Design, Inc.) is the global leader in professional nail, hand and foot beauty – including CND® SHELLAC® brand 14+ day nail colour. Deeply committed to advancing the nail care industry, CND devotes significant time and resources to product research and development, education and customer support. CND is an industry-leading advocate for the role of nail care in personal beauty and fashion.