A truly professional facial salon Den Haag
​If you are looking for a professional facial salon with years of experience and individualised care, ASPA Den Haag is the right place for you. Our facials combine the latest innovations in beauty with natural, high quality products that will deeply cleanse, rejuvenate and soothe your skin. Become one of our satisfied customers and see for yourself why ASPA is the right facial salon Den Haag for you!
A 100% holistic skin consultation
At ASPA, we understand that every skin is different and that also external factors play a big role when it comes to the perfect facial. Whether you travel a lot, are pregnant, have very dry skin or are highly sensitive to sun, we make sure that we understand your skin 100% before we begin treatment. This is why we offer a skin consultation that helps us choose the right products and methods for your customized facial.
100% organic products
100% cruelty free products
100% tailor made treatments

ASPA facial salon Den Haag: We combine nature & innovation
​​We are proud to use only natural product lines that we trust and have tested ourselves. With a background in botany, the founder of ASPA Azra personally selects only products that are free of harmful substances or harsh chemicals. We work with established brands that have years of experience, who stick to their strong values and achieve visible results without using parabens or synthetic ingredients. This also means that all our products are animal cruelty free! Our focus lies on activating your skin's own beauty potential instead of using foreign materials. This is why we work with Dermatude Meta Therapy, which 100% naturally increases body-own collagen, or Beauty Angel Collagen Light Therapy, which boosts circulation, reduces fine lines and improves your skin's complexion visibly through the use of UV-free, healing light.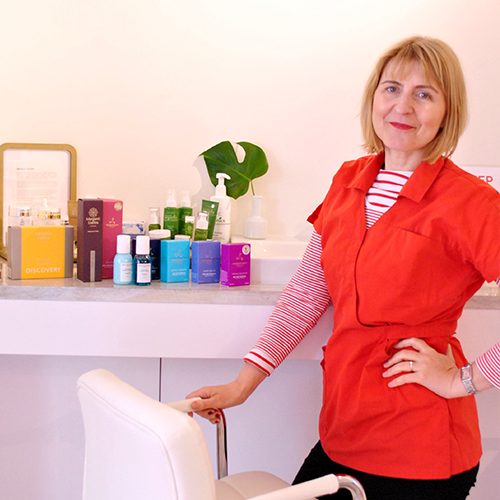 Less wrinkles, better complexion & healthier skin
​At ASPA facial salon Den Haag we offer a wide range of facial treatments that will transform your skin visibly. From traditional facials to acne treatments, we are experts when it comes to providing the care that your individual skin needs. Whether you are looking to reduce signs of acne and prevent scarring, want to regain your youthful appearance or get rid of impurities, our team of professionals is happy to assist you on the journey of unlocking your skin's beauty potential. Our most popular treatments are:
REVIEW: "Best facial I've had in the Netherlands! Azra carefully analyzed and identified my issues (dry skin and eczema aggravated by stress) and gave me a calming, relaxing and truly hydrating facial. She used excellent products and at the end of my visit I was completely relaxed and more importantly, my skin was glowing and bright. I couldn't be happier and definitely recommend ASpa for all of your beauty needs! – Jeanelle from California
Find out more about the best reviewed

facial salon Den Haag 



​To find out more about our individual treatments, our philosophy or to book a facial, we invite you to visit our website www.aspadirect.nl or give us a call at +31 (0) 70 345 0215 or  065 11 37 656. We are located in the beautiful Statenkwartier of Den Haag in the Antonie Heinsiusstraat 60, 2582 VV Den Haag. If you are coming by car, parking is free of charge.