This post is also available in: English (Engels)
Ultrasound HIFU – voor een non invasieve verstrakking van de huid
HIFU (dit staat voor High Intensity Focused Ultrasound) is een nieuwe, zeer geavanceerde behandeling bij ASPA Den Haag! Een unieke behandeling op basis van ultrasound om de huid te verstrakken op een non-invasieve manier. Naarmate we ouder worden krijgen we te maken met verslapping van de huid. De collageen aanmaak neemt af waardoor de huid er minder stevig uit ziet. HIFU is een behandeling op basis van ultrasound. De energie die vrijkomt tijdens deze behandeling zorgt ervoor dat de collageen aanmaak een boost krijgt. Zo zijn we in staat om de huid op een natuurlijke manier te liften en te verstevigen.
De behandeling werkt vooral erg mooi op
contouren van de kaaklijn
contouren van de wangen
dubbele kin
het verstrakken van de bovenarmen
Het allerfijnste is misschien wel dat er maar 2-3 behandelingen per jaar nodig zijn voor een prachtig resultaat.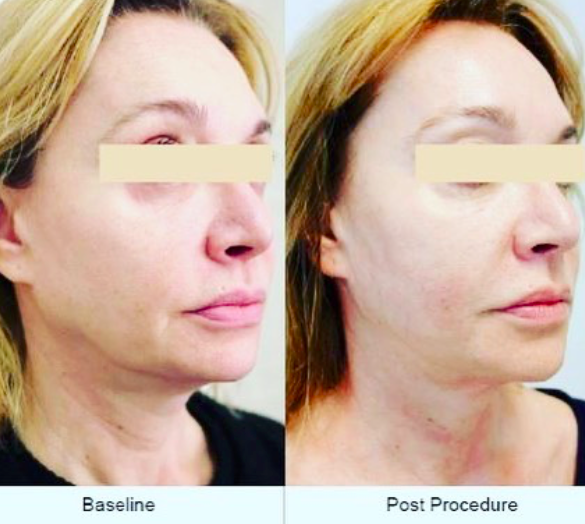 Before and After HIFU Treatment
Groot verschil in aanbieders HIFU behandelingen
Een HIFU behandeling is volkomen veilig. Ultrasone technologie worden al meer dan 50 jaar met succes ingezet en de HIFU behandeling is FDA goedgekeurd. Wel is het belangrijk om te noemen dat er veel soortgelijke (met name goedkopere) apparaten op de markt zijn.  Bij ASPA werken we uitsluitend met het gecertificeerde technisch hoogstaande apparaat. Daarnaast is ons personeel optimaal getraind en blijven zij up to date door voortdurend nieuwe trainingen te volgen.
Het resultaat
Het resultaat is zichtbaar na 8 tot 12 weken. Het lichaam gaat zelf de collageen (her)productie op gang brengen en dat heeft tijd nodig. Na deze periode zult u een zichtbare versteviging van de huid en een lifting van de gezichtscontouren waarnemen. De huid is voller en fijne lijntjes en rimpeltjes zullen verminderen. Indien u behandeld bent voor het kingebied dan zult u een zichtbare afname van de dubbele kin waarnemen.