This post is also available in: English (Engels)
De perfecte bikinilijn en Brazilian wax met Lycon bij ASPA Den Haag
Je Brazilian wax hoeft niet eng of pijnlijk te zijn. Bij ASPA Den Haag gebruiken we de Australische Lycon wax, die koppig haar zo kort als 1 mm als geen ander verwijdert gemakkelijk! Superieure resultaten voor zowel vrouwen als mannen.
100% verzorging & bescherming
Lycon is geformuleerd met de fijnste harsen, bijenwas en sensuele aromatherapie om zelfs de meest gevoelige huid tijdens je Brazilian wax of bikiniljn verwennen. ASPA echt verwent je met Lycon wassen met prachtige aroma's zoals coco, chocolade, bessen of lavendel. Voor de beste en meest vloeiende resultaten gebruiken we Lycon Wax harmoniseren lotions voor en na je behandeling.
Kalm & verzachtend 
Bij ASPA in Den Haag is waxen niet alleen een behandeling, maar een kalme en verzachtende schoonheid reis!
"At ASPA you always get the most up-to-date techniques and products, plus fabulous personal service. They know how to look after their clients!"
---
Let op: behandelingen kunnen worden verkort of verlengd voor maximaal comfort.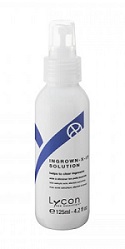 INGROWN-X-IT SOLUTION
met Salicylzuur
Deze spray licht exfolieert en helpt ingegroeide haren te minimaliseren. Arnica en allantoïne kalmeren boos kijken rode vlekken en het bevorderen van de huid genezing. Geweldig voor na het waxen, scheren, ontharingscrème crèmes, elektrolyse en voor regelmatig puistjes en verstopte huid. Verbranden of prikt niet.
Beschikbaar in: 125ML – 4.2 FL oz (US)