This post is also available in: Nederlands (Dutch)
8 Reasons to consider
IPL

 laser treatment
1. Permanent hair removal? It doesn't get much better than this!
IPL (Intense pulse light) laser treatment is the state of the art permanent hair removal method. The Elos IPL is the most professional laser on the market. Contrary to previous lasers, the Elos is ideal for all skin types, hair types and even sensitive skin. This means that even peach fluff, red or grey hairs can be safely and effectively removed up to 80 – 90%. Another bonus: it's less painful than previous treatment methods. Ladies (and Gentlemen)! This is what we've been waiting for! 
​2. Keep the lessons, lose the scars!
Every scar tells a story! And while it's true that scars add character, some of them can have a strong impact on your self confidence. And, just as bad, some scars even hurt or itch, causing physical discomfort. Luckily, the IPL laser treatment reduces not only the visibility of the scar, but can also reduce pain or irritation. Discolourations are safely and effectively reduced, leaving you with a more evenly toned skin. The treatment works for young and old scars, burn marks or even surgery marks.
3. Adieu pigmentation and

melasma

!
The light impulses of the IPL laser break down the pigment present in pigment spots and melasma. The results of a recommended 3-5 treatments every 6 weeks are dramatic. The pigmentation will gradually fade or fall off the skin in the form of a crust. This IPL laser treatment also leads to a more even skin tone, reduces redness and rejuvenates the skin. Also good to know: this IPL laser treatment is also effective for sun damage, pregnancy masks and age spots!
4. A facelift that respects your natural expression: the

IPL

 laser treatment
While Botox can lift your face and reduce wrinkles and other signs of aging, it often comes at a cost of looking rather unnatural. In addition, fillers and surgical procedures bear a lot more serious risks. The non surgical IPL laser treatment can give you a younger appearance in a more natural way. It effectively reduces wrinkles and fine lines, tightens the skin and leads to a better overall skin structure with finer pores. The results can be seen immediately and continue in the weeks after the treatment.
5. Reduce acne and remove its scars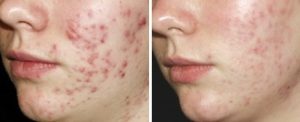 ​All those who suffer from acne know that it can have a grave effect on your self confidence. Especially in puberty, acne sufferers often experience not only the physical, but also the emotional effects of this skin condition.Thanks to the IPL laser treatment the acne bacteria is targeted effectively and carefully . The treatment reduces infection and supports the natural recovery of the skin. Depending on the type of acne 6-10 treatments every 1-3 weeks is required for optimum results.
6. Tattoos are no longer forever
​They say nothing lasts forever. And tattoos, it seems, have made it into this category at last. All thanks to the PicoPlus4 laser. The newest generation model, this IPL laser removes all colours of tattoo ink on all skin types fast and effectively.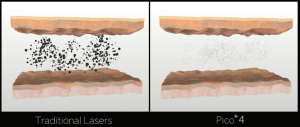 The PicoPlus 4 laser fires a light pulse every picosecond (that's even shorter than a nanosecond!), which breaks down the tattoo ink into smaller particles. The body is now able to remove these small ink particles naturally. Thanks to a complimentary cooling mechanism (a consistent cold air stream of -4C), the IPL laser treatment is now less painful then ever before. Goodbye regrets!
7. Sins of the past? Piercing stains and scarring are effectively reduced
​If you ever had a nose piercing and wore other materials than stainless steel, you might know what this is about: A little grey mark around the area of the piercing. Not very nice to look at and probably something you have thought about removing. But maybe you've had it with the piercing scar that greets you in the mirror or in the shower every morning. Good news then as  IPL laser treatments are made for removing scars and discolorations. Long live the wild times! In our memory, not on our bodies, of course 😉
8. Professional

IPL

 laser treatment of

cuperose

, rosacea and small capillaries
​​Cuperose is a skin condition that is characterised by redness, dry and sensitive skin as well as broken capillaries. Sufferers also often experience tightness and itchiness. Rosacea is cuperose in combination with acne. Both skin conditions are physically uncomfortable and can lead to diminished self esteem. But no longer! After disinfecting the area and the application of a cooling gel, the Elos laser burns the broken capillaries. They consequently close and become invisible. Through systematic targeting, redness disappears and the skin looks more even, healthier and younger. After 1-5 treatments with an interval of 4-6 weeks, a skin improvement of 50-75% can be expected. Very small capillaries can disappear after the first treatment already. Glowing, even skin – here I come!
​

Many laser treatments are covered by your health insurance
Many Dutch health insurances cover many of the laser treatments! Often a supplementary insurance is necessary to receive compensation.  Because Cosmetique Totale meets all the necessary legal requirements, many of your medical skin treatments are covered by health insurance. Laser hair removal, acne treatments, the treatment of scars are examples of treatments that are covered. Click here for a list of costs covered by your health insurance provider.
Book

 your free

IPL

 laser treatment consultation at ASPA now!
​​Are you interested how the IPL laser treatment can help you? Book your free consultation at ASPA now. Call us at 070 345 0215​ or e-mail us on info@aspadirect.com  to schedule your appointment!